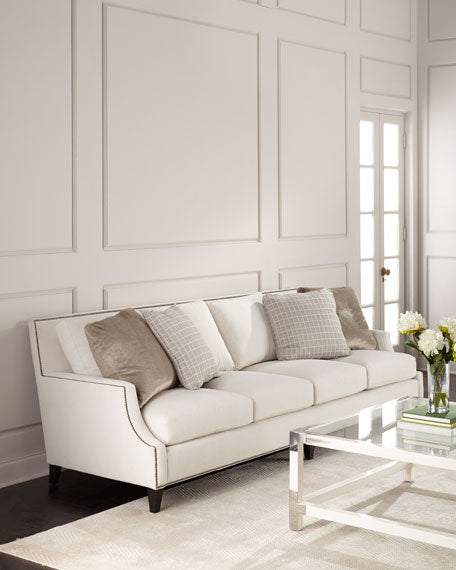 Bernhardt Kirk Sofa
Regular price $3,899.00 $3,449.00 Sale
Transitional luxe sofa
Sofa made of select hardwoods with polyester/linen upholstery.
Studded trim.
Scalloped back.
Includes six matching accent pillows covered in polyester/linen and rayon/linen blend fabric.
110"W x 41"D x 35.75"T.
Made in the USA.
Boxed weights, approximately 226 lbs.
About Bernhardt:
Founded in 1889 by American pioneer John Mathias Bernhardt, Bernhardt Furniture Company, Inc., is located in the foothills of western North Carolina. After the turn of the century, the company expanded its product line from the dining room into the bedroom, and managed to deliver furniture in spite of severe labor and materials shortages during both world wars. Today, Bernhardt is one of the largest family-owned and -operated marketers of fine wood and upholstered furniture in the United States.

Read more at https://www.horchow.com/Bernhardt-Kirk-Sofa/cprod91950001/p.prod#aCxsDPjOpJJxhdoy.99